Market Updates »

---
This past weekend I saw something in an accepted contract I've never seen before in my 7+ year career as a real estate agent. The seller agreed to pay for the buyer's appraisal. This $600 to $1000 expense is typically the buyer's cost, since it's required by their lender. The actual dollar amount might make this statement seem like no big deal; however, I think it tells a lot about the current market conditions. The market is shifting; it's shifting from the previous Seller's Market to more favorable to buyers. The seller paying the appraisal cost is a prime example of this, especially considering just a few short months ago, not only would the buyer not think of asking a seller to pay this fee but would guarantee a sales price regardless of appraised value. There are several other factors that tell us the market has shifted from a strong Seller's Market to more of a Buyer's Market. Let's look at a few.

First, homes are no longer receiving offers within a few hours of hitting the market, in fact, we are now seeing most homes go under contract in 2-3 weeks if priced correctly and even longer if not. Homes that are priced too high, which is now easy to do, will likely sit until they see a price reduction or even multiple reductions to bring the price down to where a buyer is willing to pay.
Second, due to homes sitting on the market, multiple offers are also a thing of the past. Often, when a home does go under contract, we're seeing a single offer. This creates the opportunity for more negotiation power from buyers. This allows buyers to take more time to think their offers through without too much worry of the property being snatched up from underneath them.
Finally, homeowners might not get away with not doing anything prior to listing their homes. With more properties for buyers to choose from, they can afford to be pickier when making an offer. If a home needs even some cosmetic work, the price must now more than ever reflect the work that is needed. That bright red carpet that might have been overlooked by buyers two months ago might now cost a seller $10,000 with a lower offer, whereas updating before listing might only be $5000.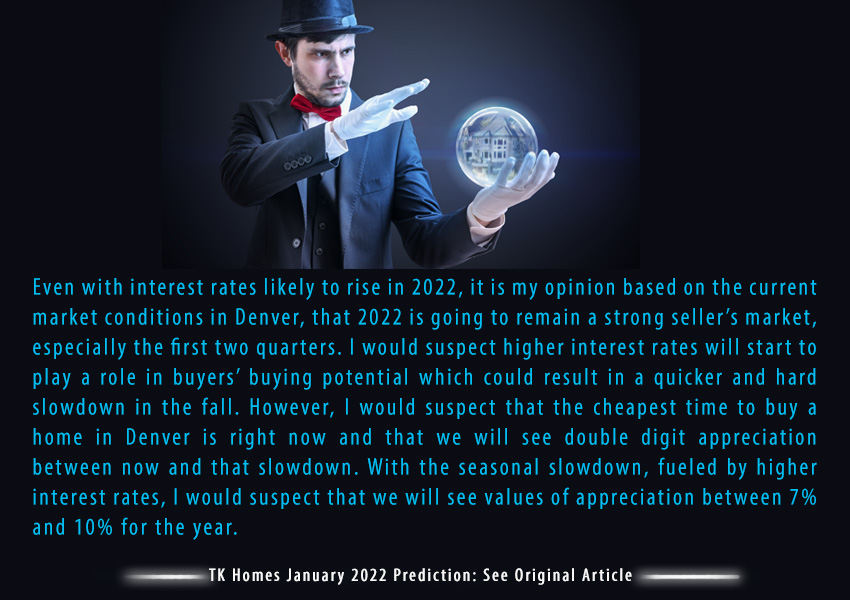 Sellers definitely having to adjust their expectations for the current market conditions. Many real estate professionals might be talking about how out of the blue these changes are. However, at TK Homes, this comes as no surprise. In fact, if you refer back to our 2022 Denver Real Estate Market Prediction article, posted back in January, we predicted we'd see a bigger than normal seasonal slowdown come the fall. I would say that's exactly what we are seeing today. Traditionally, we see a slowdown in the market towards the end of July and beginning of August; it happens every year like clockwork. This year, it's getting more attention due to how drastic the changes in the market are compared to the first half of the year.The big question now is, what is coming next? Will we see the market stay relatively softer until mid-December and then a pickup like previous years, or are we headed into a new real estate cycle which favors buyers? Right now, we don't have an answer to these questions, but we can assure you that we're watching the market very closely to be able to provide the best advice to our clients looking to sell, buy or invest in Denver real estate. To help make sure you have the best information, we will continue to provide a market update on Denver's real estate market the first week of every month. Make sure you subscribe and stay tuned to see how the market plays out in the upcoming months, which will be telltale signs of what 2023 and upcoming market trends will likely be.

~ Article written by Team Leader & REALTOR®, Trevor Kohlhepp