Market Updates »

---
With 2021 officially in the rearview mirror, I can without question say that it was a year, like I personally, and many other industry experts have never experienced throughout all our years in real estate. Going into 2021, we were seeing multiple offers and homes selling over list for literally hundreds of thousands of dollars. This quickly became the norm for 2021. Current statistics suggest that we saw 17% to as high as 25% appreciation last year. We did see a more traditional seasonal slowdown in August and September; however, that was followed by record low inventory levels in November and December with Denver Metro Association of Realtors stating there were only 2,248 active listing in the Denver metro area including Boulder. So, coming from such a heavy seller's market, what can we expect to see in Denver's real estate market in 2022? Let's review the current market conditions first to help answer this question.

I had mentioned above that we saw a more traditional seasonal slowdown in August/September. However, we didn't see that slowdown continue through the holidays like we "normally" would for the year. In fact, since about Thanksgiving, we started seeing increased number of offers on any new listing and accepted offers going higher and higher over the asking price of homes for sale. We would not normally see this trend until the first part of January (or now basically).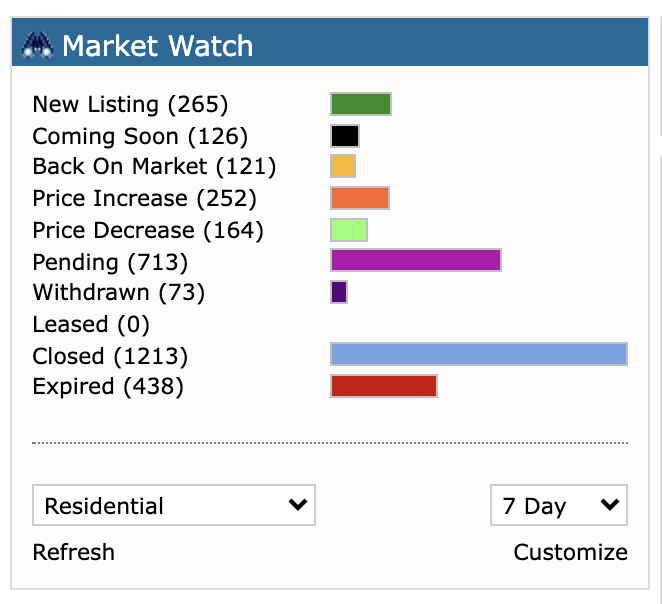 The higher number of offers indicates more buyers in the market and the high over list offers tell us buyers are still willing to pay a premium for the right property, even higher prices than 2021's previous buyers. As buyers have entered the market, sellers continue to stay on the sidelines; in fact, at the time of writing this article, there are only a total of 265 new homes for sale on REColorado (Denver's MLS) in the past 7 days. In that same time period, 713 homes went under contract. These statistics right here tell us there are now 448 less homes on the market than 7 days ago. Lack of home inventory has been the leading cause of home appreciation and a seller's market. As long as we're seeing more homes go under contract than hit the market, buyers will continue to have to be aggressive to get a home under contract.
In 2021, many homeowners that would have normally put their homes up for sale decided to stay put. This is often out of fear of not being able to find a replacement home. This trend is likely one of the biggest factors for the low inventory. If homeowners get more comfortable with the idea that they will be able to purchase that replacement home, we could see higher inventory levels. The question here, in my opinion is, will homeowners get more comfortable with the idea of selling only after they see it's getting easier to purchase? If the answer to this questions is yes, then I do not think homeowners will get more comfortable selling in 2022 as inventory levels are still at historic lows which will continue to make competition fierce between buyers.
With the current Denver market conditions, lack of inventory, and buyers willing to continue to pay more for the right home, it would appear that everything is pointing to 2022 mirroring 2021. However, there is one major piece of the puzzle that might just have enough energy to push, or more likely slow the appreciation and competition in Denver's real estate market in 2022.
The Federal Reserves have indicated that we can expect as many as three interest rate increases in 2022, which will help curb the inflation we've witnessed most recently across the economy. Now, this will not directly impact or guarantee interest rate hikes for mortgages, but it's not a far stretch to believe they will be affected and rise in 2022. The fact is an interest rate increase of just an 1/8 of percent could reduce the amount a buyer is qualified for upwards of $10,000 to $15,000. If interest rates rise 1/4 of a percent or more, it will cause some buyers who could buy before to no longer be in the market. If this happens on a big enough scale, then you could start to see enough buyers leaving the market to level out supply and demand. However, when speaking with trusted lenders, they do not feel we will see a huge jump in interest rates in 2022. In fact, some predict they will continue to hover in that 3.0% to 3.5% range, which is still a historically low interest rate.
Even with interest rates likely to rise in 2022, it is my opinion based on the current market conditions in Denver, that 2022 is going to remain a strong seller's market, especially the first two quarters. I would suspect higher interest rates will start to play a role in buyers' buying potential which could result in a quicker and hard slowdown in the fall. However, I would suspect that the cheapest time to buy a home in Denver is right now and that we will see double digit appreciation between now and that slowdown. With the seasonal slowdown, fueled by higher interest rates, I would suspect that we will see values of appreciation between 7% and 10% for the year.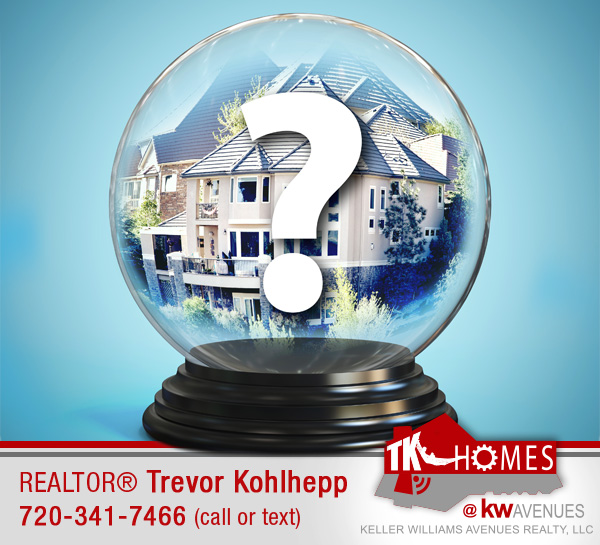 As much as I wish I had a crystal ball to see the future, I don't. Therefore, I am only able to make an educated guess on what 2022 will bring for Denver's real estate market based on personal experience, current facts, and what others are predicting.

If making a move is part of your 2022 New Year's resolutions, let's connect and talk about your goals. The best time to create a plan is right now. After all, the future is only a prediction and is never guaranteed. Connect with a TK Homes REALTOR® today and let's make 2022 the year of action. Whether that means upgrading to a new home that better fits your needs, buying your first home, or investing in a second home, we are the key to your real estate goals.

~ Written by CEO/REALTOR® Trevor Kohlhepp