BUYER'S RESOURCE »

---
Many news sources will state that most young professionals feel the dream of homeownership is out of reach. At TK Homes, we can certainly understand why, with home values still near all-time highs and interest rates higher than we've seen in most recent years. However, we also see first-time buyers making the decision that they are not going to let the media persuade them into believing that buying a home isn't possible.

Here are five tips and tricks for first-time homebuyers ready to beat the odds and turn their dream of homeownership into reality.
1. Better Understand Interest Rates
It's no secret that interest rates are higher right now than we've seen in most recent years. However, it's important to understand that the extremely low interest rates we saw most recently in the 3's and even 2's is not typical. In fact, according to Trading Economics, the average interest rate between 1971, and today is 7.74%. With this stat, we can see that today's interest rate is actually below the national historic average. What does this mean for you as a first-time homebuyer? If you think waiting to buy for a lower interest rate is a smart choice, you might find yourself waiting a very long time to see rates back down to previous lows.
2. Shop Your Rate and Loan Program
Just because interest rates are higher right now than we've seen in the most recent years does not mean that you don't have choices. With the current interest rates higher than we've seen, it is more important than ever to shop your rate and loan program. Talk to at least three different lenders, including lenders that work for a specific bank and lenders that broker loans from multiple banks. See what different loan programs each lender offers, including specific programs for first-time buyers. It's not unusual to find loan programs that might have lower interest rates and/or lower private mortgage insurance (PMI) for first-time buyers. It's important to remember that not every lender is going to offer the same program. By talking to multiple lenders, you'll find the best program to suit your needs.
3. Buy for the Future, Not Just Today
When you're renting a home, you typically have a year lease, and when it is up, you usually have the option to extend the lease or find a new place. However, when you buy, there is no set time period for how long you're going to be in the home. Because selling a home takes much more planning and expense, it is important to take some time to determine what you might need or want in a home for the long haul vs. just today. This not only includes location but size as well. One common mistake we see first-time buyers make is going outside of their desired location, often because they can get a bigger or more upgraded home for the same price. This may feel good for possibly a year or so; however, after the excitement of the new home wears off, you're still left with the longer commute to work or family and friends. This often becomes the reason for selling. In the previous market, many first-time buyers could get away with this due to the extreme appreciation we were seeing each year. However, today's first-time buyers are going to need to stay in their homes longer in order to see positive appreciation when selling. A good reminder is—you can upgrade and change the interior of your home, but you cannot change its location.
4. This Is 2023, Not 2007
Many homebuyers we talk to, whether first-time buyers or those just wanting to change their current home, are stating they are not taking action because they are waiting for the housing market to crash. Often, these buyers are referring to what we saw happen back in 2007. This could be a costly mistake; today's housing market is not the same as 2007. Right now, we are not seeing a high number of foreclosures, and inventory levels are staying very low. In 2007, homeowners were selling because they had to due to bad loan programs. Today homeowners are making the choice not to sell, and in most cases, if they have to sell, they easily can. The simple fact is we have already seen roughly 7.5% appreciation year to date. That means by not buying at the start of the year, you've already lost out on 7.5% appreciation. This trend is likely to continue with the low inventory levels Denver is seeing.

5. Work With the Right Real Estate Agent
Buying your first home is a big deal. There's a lot of moving pieces within the contract, a lot of energy that goes into finding the right place, and there's a lot of unknowns simply because you haven't done it before. It is important to work with a real estate agent who understands what you're going through and who can help you from start to finish with your buying journey. A good first-time buyer's agent should have the heart of a teacher and make you feel comfortable asking questions.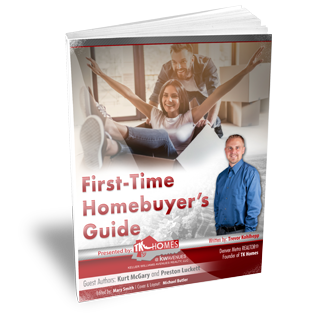 You might feel overwhelmed when it comes to taking the first steps towards buying your first home. The good news is that you have already completed the first step by reading this short article. The second step is also an easy one that you can complete right now—contact a TK Homes agent, and let's talk about the process of buying your first home. At TK Homes, we will be by your side every step of the way, answering all of your questions and helping you turn your dream of homeownership into a key to open the front door of your new home. Not ready to talk to a TK Homes agent? No problem. Instead, take your second step by downloading our FREE First-Time Homebuyer's Guide. This guide is packed with everything you need to know about buying your first home, and it's completely free!
~ Written by TK Homes CEO/REALTOR® Trevor Kohlhepp