BUYER'S RESOURCE »

---
You've decided it's time to buy a Denver home, been pre-approved by your preferred lender, and picked an awesome real estate agent who is able to get the job done. All that's left is to find your next home! This sounds easy, but there's actually a lot that goes into this. Today, we'll talk about what you can expect when working with a TK Homes agent and seeing homes.

The first step is not one that is in our hands at all; the home has to hit the market. Because Denver is currently in an extremely hot seller's market, there's a very clear pattern for new homes hitting the market right now. Wednesdays or Thursdays are when we will see the highest number of new homes available. Then, showings will usually start either immediately, or on Friday or Saturday, and homes will be available to see through the weekend. By Monday and Tuesday, nearly every new home hitting the market will be under contract.
Because of this trend, we will typically start lining up homes to see on Friday evening for the weekend. All you will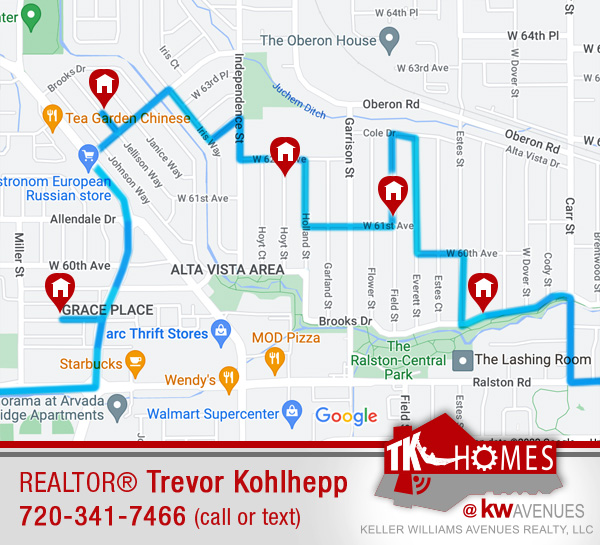 need to do is pick your top 4-5 homes that you'd like to see, and your TK Homes agent will create a showing schedule for each one. In a perfect world, we'll start on one end of town and move directly to the next home ending on the other end of town. Depending on showing windows and availability, we do sometimes have to skip around a little. We highly recommend that you only see 4-5 homes at a time. If you see more than that at one time, they all really start to blend together, and it is hard to remember what each home was like and which home had the features you liked or disliked.

Getting homes scheduled to see is only half of the process; the other half is actually seeing them. On the day of your showings, we recommend wearing shoes that are comfortable and easy to remove. It's very common to be removing shoes during each home visit, and personally I have learned to wear easy slip-on shoes. Showings are usually limited to 30 minutes, so it's important to make sure to move through the home efficiently to ensure you can see the whole house. It's also important to keep to this time frame as we usually only have the expected travel time in-between homes and then the 30-minute showing window at the next home. Remember to make sure you've got a full tank of gas so you're not having to make an extra stop in-between showings. After all, the schedule does not account for any extra stops in-between homes. By sticking to a tight schedule, you will be able to maximize your weekends and showings to find that perfect home!

For even more details on buying a home, be sure to check out our First-time Homebuyer's Guide. It's a complete guide for buying your first home in Denver from financing to inspections to closing. It's completely FREE! Grab your copy today!

~ Written by CEO/REALTOR® Trevor Kohlhepp