Market Updates »

---
The hustle and bustle of the summer is winding down, and most of us are starting to settle into our fall routine and looking at getting our upcoming holiday plans set in stone. With the current market conditions, it would appear that buying or selling a home is not in those end of year plans for most.
Those that have decided to sell their home are left wondering where the buyers are. It's not uncommon for a home for sale to have less than 10 showings scheduled the first week on the market, while earlier this year we would have seen potentially over 100 showings on a new listing in the first weekend. Lack of showings aren't the only thing we're missing; the number of new listings is also reducing. In fact, at the time of writing this article, we have only 1,055 new listings in the Denver metro area during the past 7 days. Again, earlier this year, we would have seen that number closer to 1,600 on the low side and closer to 1,800 as an average number of new listings. With these stats, you might think that no one is buying; however, that's just not the case.

In the same 7-day time period mentioned above, we've had 1,390 homes go under contract; basic math tells us that with these stats we have lower inventory today than we did 7 days ago. This means that homes are still selling, and there is still a demand for them. However, buyers look much different today than they did earlier this year.

Homebuyers today are much pickier than we've seen in the most recent years. They are willing to take more time to decide if they want to make an offer and are willing to walk away if they feel the price is too high for the area or condition. This leaves many homes sitting on the market until they find the right buyer or sellers having to reduce the price to attract more buyers. In fact, going back to the 7-day stats, we've seen 1,552 price reductions in that time period. This tells us that many homeowners are overvaluing their homes based on today's market conditions.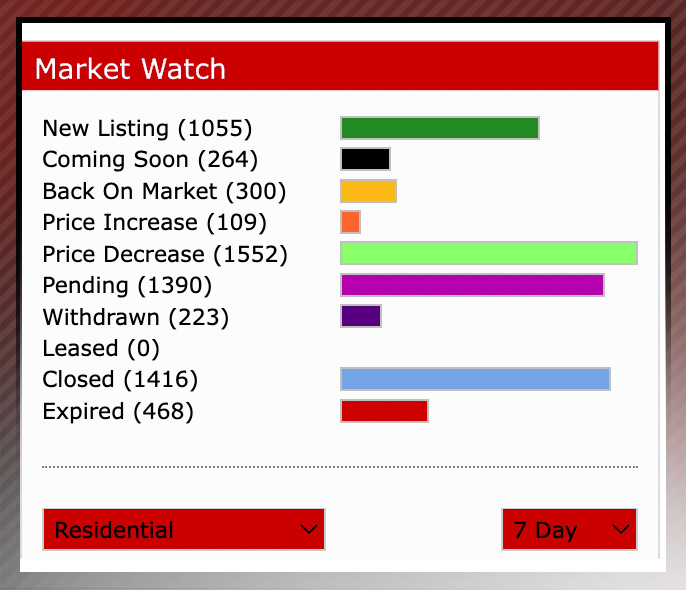 Right now, I think it is still too early to determine how much values have come down from the peak summer market, but it's safe to say they have come down. In fact, some neighborhoods I have personally been watching the past couple of months have multiple homes for sale priced $75,000 or more below where they would have sold just two or three months ago. These specific homes are in $650,000 to $750,000 neighborhoods, so that would represent a value loss of roughly 10%. The big question I have right now is, will this new market be a long-term trend for the next year or longer or simply a more traditional seasonal slowdown?

Every year around this time, we see the market cool off from the summer frenzy. Typically, this cool down lasts until about mid-December when we see more buyers get back into the market. This year the cool down definitely has been more drastic, but then again, the feeding frenzy in the summer was also more drastic than most.
Ultimately, I am watching the market very closely to determine which direction the market may be heading in the upcoming months, and I think we will have a really good idea of what 2023 will look like come that mid-December time frame. In the meantime, make sure you subscribe to our newsletter and blog for regular monthly updates from your Denver real estate experts at TK Homes.
~ Article written by Team Leader & REALTOR®, Trevor Kohlhepp