Market Updates »
---
Halloween is officially behind us, and although most big box stores have had holiday décor out for a few weeks already, it doesn't seem so strange now with the holidays officially upon us next month. Another norm is the downward trend on Denver home values.

November will be the 5th consecutive month that home values continue in a downward trend. On top of lower sale prices, we're seeing homes sit on the market for more days with much lower showing numbers. In fact, the only thing that is higher now is the amount that sellers are offering in concessions. Often, these concessions are used to cover buyer closing costs and/or interest rate buy downs.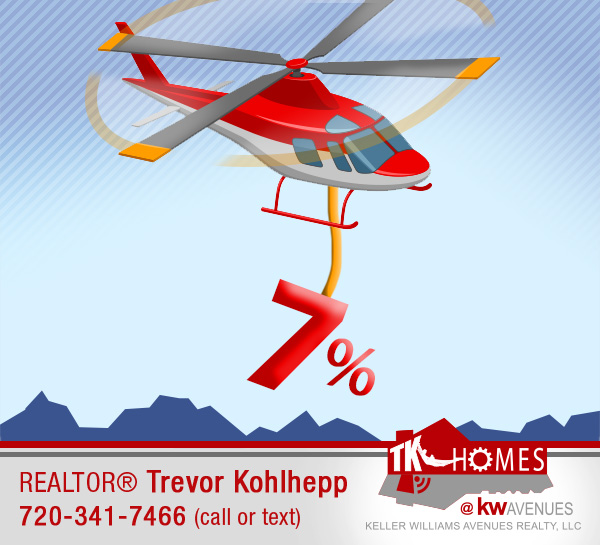 Interest rates have continued to hover in the 7's, ranging from low 7's into the low 8's depending on loan programs and borrower details, such as credit scores and down payments. The cause for lower home values is partly due to the time of year, but more importantly, these are higher interest rates than we've seen since before Covid. With higher rates come higher monthly payments, forcing many potential homebuyers to remove themselves from the market.

The reason for the higher seller concession amounts and why sellers are not just reducing the sales price is many lenders are now offering special loan programs that allow buyers to either, 1. Buy down the interest rate, or 2. Take advantage of special loan programs that allow the seller to pay for a pre-set portion of interest for the first 1-3 years, resulting in several hundred dollars in savings each month. Both of these options give buyers an option to save money each month on their mortgage, helping relieve some of the pain of these higher interest rates. These savings are almost always greater than if the same amount of concessions was taken off the top in the form of a lower price reduction. If a price reduction was made, it might only result in a $10 to $50 monthly savings.
It is important to understand that although concessions are more common right now, they are still not guaranteed. In fact, if a home is priced correctly, it is still possible to go under contract within a few days and sometimes even still for over list price. This is important and a strong indicator that demand for homes is still high.

It is my belief that if we were to see interest rates come back down, even if only into the 5's, that the market could adjust very quickly and look similar to what we saw previously in 2022 and 2021. This would be important to keep in mind for anyone that is thinking about buying a home but holding off for better rates. A better strategy, if you can stomach current rates, would be to buy now while home values have come down some and seller concessions are more common, and then refinance into a lower interest rate when the time comes. The phrase you will see going around the internet for this is: marry the house, date the rate. With current loan programs available, this strategy becomes even more attractive. We will be going over some of these loan programs in more detail in next week's real estate blog, so be sure to check back or subscribe to learn more.
In the meantime, if you have any questions on what your home's value might be in today's market, be sure to request a home valuation. If you want to learn more about what buying a home in today's market looks like for you, contact us and set up a time to discuss your options and learn how we can make today's real estate environment work in your favor.
~ Article written by Team Leader & REALTOR®, Trevor Kohlhepp