Market Updates »

---
If you would have asked me to write the December Denver Real Estate Market Update just a couple weeks ago, it would have been a very different article. In fact, it would have sounded very similar to the previous November update article. However, that's no longer the case. In fact, even I am a little surprised about this month's update.
Historically, this time of year is fairly quiet and still on the slower side. Homes would usually be sitting a little longer and pricing would be extremely important, especially if you want to see an offer in the first week on the market. Over list and multiple offers would just be a recent memory of the summer. A lot of this has to do with the many holidays all of us are celebrating this time of year. However, a quieter market due to the holidays isn't exactly what we're seeing right now.

The past two weeks (and yes much to my surprise, even this past week with Thanksgiving) we've started to see the market come alive and feel very much like a normal January or mid-December, which is my favorite time to sell a home. What I mean by this is homes are selling very quickly and in most cases with multiple offers and even significantly over list price. In fact, in most cases these past two weeks when working with our buyers, the homes they have seen and wanted to pursue were either under contract before we could even attend our scheduled showing or received multiple offers. In some cases, there were ten or more offers, most of the offers were over list, and even in some cases the offers were more than $50,000 over. This is not new for Denver's real estate market; however, it is not in line with the most recent market trends nor is it in line with historic market trends for this time of year. So, what does this mean?

In my opinion, I think that unless there are some drastic changes (which isn't that far of a stretch to think there could be when you look at the current environment in the stock market and how it's responding to the newest COVID variant and economy conditions) we are setting up to see another heavy seller's market in 2022. The truth is, historically most appreciation is seen in the market during the year between March and May. I have no reason to believe that 2022 is going to be any different. This would mean that we will see increased demand after the first of the year, which would put even more pressure on an already hot real estate market.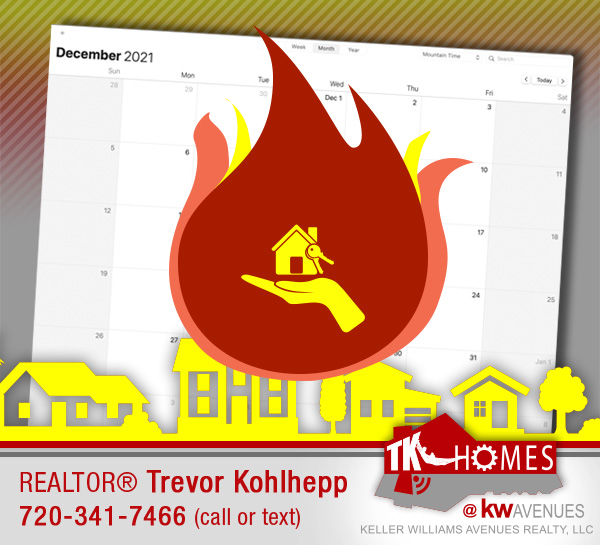 One of the biggest causes for the huge appreciation in 2021 was due to the fact that many homeowners decided not to sell their home that normally would have. A lot of this was due to the fear of not being able to find a replacement home in such a heavy seller's market. If 2022 looks similar to 2021, then this fear will continue to keep these homes off the market, only adding fuel to an already low inventory environment.

If you've thought about buying or selling but are unsure how the market affects you, we encourage you to set up a time to talk with us. We can help you make an educated decision whether now is a good time or not. Just remember, if you would have bought this time last year, you likely would be sitting on potentially 10% or more in equity in your home. Continuing to wait means you might be losing out on even more equity. Call or text me at 720-341-7466, and let's talk about your real estate goals and see what makes the most sense for you.

~ Article written by Team Leader & REALTOR®, Trevor Kohlhepp