SELLER'S RESOURCE »

---
It's a very well-known fact that the selling season for homes is during the summer months. In fact, the last few market update articles have talked about how Denver's real estate market is currently in the middle of its seasonal slowdown, which historically starts towards the end of July/August. If the market trends as it has in the past years, we will likely start writing about how we've started expecting this slowdown in January and February. However, there is one specific week before that when I personally LOVE listing homes. Can you guess what week that is?
My absolute favorite time to list a home is during the second week of December. I know that this might sound weird, but I have a theory that I have proven time and time again. This is also the time of year that I personally listed and sold my first home back in 2016. So, let's look at why.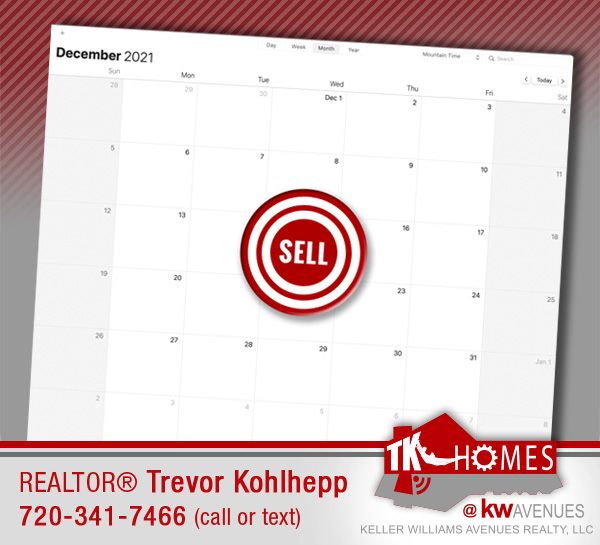 The fall/winter is a busy time of year because there are several significant holidays. This is a major factor as to why the market sees such a slowdown in general. However, this specific week is very unique. The truth is, many sellers actually remove their homes from the market or simply wait to list until after the first of the year. However, buyers this week realize something…

Buyers realize that if they were to go under contract this second week of December that they would actually be through most of the contract by Christmas and New Years and then close right after the first of the year. Who wouldn't want a new home for the New Year?! However, because of the fact that many sellers remove their homes from the market or wait to list, there is a major supply shortage.

This means that during this specific week there is a surplus of active buyers at a time when there is a decrease in homes to buy. This results in more bidding wars and higher over list prices than any other week during the seasonal slowdown. Let's look at the facts.

When I listed my personal residence, we listed on December 15th with showings starting on the 16th. It just so happened we were hit with a blizzard that same day, and there was something like 12 inches of snow. Even with those conditions, we had back-to-back showings and a packed open house. We ended the weekend with 14 offers with an average over list price of $20,000. Now, these numbers might not seem like much when comparing them to the summer of 2021; however, this was during a time where the week before you'd be lucky to get multiple offers and just list price or slightly over.

The key with this listing strategy is listing your home this specific week. If you're too early or a week late- game over. The holidays will change the outcome completely. In fact, at TK Homes, we recommend if you miss this week, it's better to wait and list no earlier than the first or second week of January.

If you've thought about selling and want to take advantage of my secret favorite week to sell, let's connect and talk about your goals. We have the time now to get your home ready for market. I promise after you go under contract you will understand why I love listing homes the second week in December. Then, the next time a fellow agent tries to tell me that you should never list a home in December, you can be my witness as to why this is a false statement.
~ Written by CEO/REALTOR® Trevor Kohlhepp
---
---