SELLER'S RESOURCE »

---
One thing I always tell my clients when I sit down to talk to them regarding selling their home is that surprises in real estate are usually not good. I use this line most of the time to refer to after the home inspection when we hear that there are some big-ticket items that need to be replaced or repaired. Although this can happen even when preventive measures are taken, we do not ever want this. This is a point that all sellers agree on. So, how do we prevent this worst-case scenario from happening? At TK Homes, we have the answer!
Before we put your home on the market, we recommend that you have your big systems inspected and repaired if necessary. When we value your home, those systems should be in good working order. These items do not change the value of your home when they are working properly, but they can severely damage the value of your home if they aren't working. An example of this in action would be if the buyer's agent has clients who ask for a new furnace because the furnace is old. We can give them the paperwork and paid invoice showing that the furnace has been cleaned, serviced and is in good working order. This will make it much more likely that the seller can avoid an expensive bill by not having to provide a new furnace.
Sellers may not realize some of the expectations buyers have when purchasing a home that can cause problems during the sale. These expectations are not unrealistic. We want to let sellers know about possible issues upfront. Let's talk about some of the big systems in a home and what we would recommend.
When a buyer purchases a home, they will not only expect the roof to not be leaking, but they will also expect that it doesn't have wind or hail damage and that it is up to code. Hail and wind damage can lead to premature aging of a roof, causing costly repairs down the road. What a seller may not know is that if the roof is not in good condition, the buyer may not be able to get financing or insurance to purchase their home. As mentioned, the roof may still be a concern even if it isn't leaking. At TK Homes, we recommend that a roof be inspected before listing a home. Also, keep in mind, if there is hail or wind damage, or especially if the roof is past its expected life span, that does not automatically mean that your insurance carrier will cover the repairs. We say this from experience. If there is a concern with the roof, it is good to know upfront, so you have the time to get it addressed without a short inspection deadline looming.
Another system that can be costly in your home is your HVAC system. A buyer purchasing your home will expect your furnace and air conditioner (if applicable) to be in good working order. We recommend that you have your furnace cleaned, serviced and in good working order before listing your home. If your furnace is new enough, we would also recommend that it be certified. Certifying a furnace is more extensive than just an inspection. They check to make sure that all components are working properly. A certification is commonly asked for by buyers, so having it upfront will make the inspection process that much smoother for all parties. If you have an air conditioner, we recommend having that inspected as well.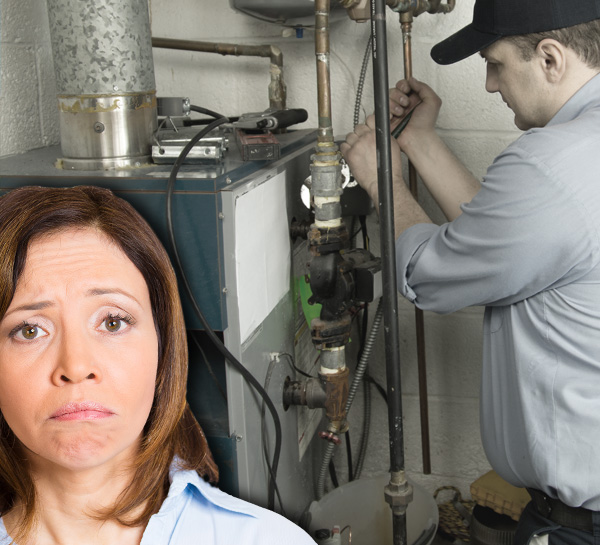 When we tour a home for the first time before selling it, we will also ask to look at your electrical panel. If we find that you happen to have an electrical panel that is known to be dangerous with a high-risk of failing, such as a Federal Pacific Electrical Panel, then we will recommend you get it replaced. Many of these high-risk panels are known to cause fires when they fail. Another thing to keep in mind regarding potential electrical concerns is that now there are newer codes requiring GFCI outlets in certain locations. We will look for those as well. Electrical issues with your home can make it uninsurable, especially if you have a high-risk panel.
Although we don't usually recommend having a sewer scoped before listing a house, it is not a bad idea. Buyers will expect not only a clean sewer, but they will expect to have a sewer without cracks or major low spots. Sewers can be a large expense if there are problems. I have personally had a $25,000 sewer repair on one of my previous homes. Unfortunately, if there is an issue with a sewer line, it's almost always paid for by the seller, regardless of when it is found.
Some sellers might wonder what difference it makes if we do this inspection before listing or just wait to learn what happens after the buyer does their inspection. One thing to think about is if the seller gets to choose the company that does the work, they can look into various companies and get the most cost-effective repairs. If a seller ends up having to give seller concessions for the repair, that could be a different story. Sometimes, the best reason to learn about these big system issues early is simply time. If you inspect these items before listing, you can take your time to find the right contractor for the job and the best price. When you're under contract, you've got literally days to find a contractor to do the work. This often results in price not playing as much of a factor but more availability, and quick jobs increase the cost of the work that needs to be done. Another thing to think about is that big-ticket items that need to be repaired can scare buyers away. We have seen some buyers terminate without even asking for items to be repaired or replaced because they are fearful hearing about these big issues. In fact, the number one contingency that buyers terminate on is the inspection.
At TK Homes, we want to be preventive, and we want to educate our sellers regarding what any buyer would expect from a home when they are purchasing it. In review, this means a roof that is in good condition, an HVAC system that is in working order, an electrical panel that is not hazardous and a sewer that is clean and free from cracks. We want you to budget for what needs to be done so that you have a good estimate of what you will net at the closing table before listing your home. We want the only surprises to be multiple offers and an over asking sales price. Contact a TK Homes agent today, and we will get your home sold as smoothly as possible and net you the most without surprises!
~ Written by TK Homes REALTOR®, Mary Smith