SELLER'S RESOURCE »

---
Everyone knows we have low inventory, and that there is a crazy seller's market right now in the Denver metro area. Sellers are getting many offers with over asking prices, and it can be confusing because each offer is different. You may be wondering…how do we keep all the differences straight, and how can we actually make enough sense out of all of it to make a good decision and know which offer to accept?
At TK Homes, we use some strategies that help us to stay organized and our clients to easily see what the top offers are. Part of our process is to make an offer deadline, so it is clear to agents when we would like to have offers in by. Once we have offers, our strategy is to use an offer overview spreadsheet. As they come in, all offers go into this detailed spreadsheet that lists basic information like offer price, deadlines for inspection and appraisal, type of loan, etc. It also has all the information about if the offer has an appraisal gap, escalation clause, and what inspections are being done. When we have all of our offers in our spreadsheet, we go back to our top 3 offers and ask them for their highest and best offer. This method has been successful in helping us get the most for our clients. After any changes are made, then we are able to pick out our top 3 recommended offers by quickly reviewing all offers side by side.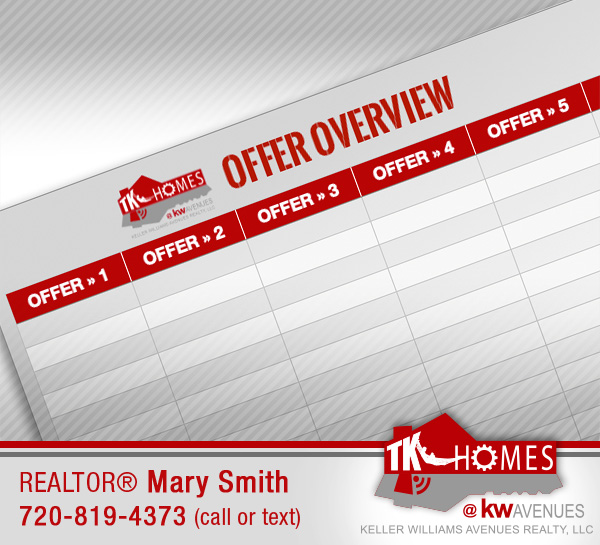 Next, we schedule an appointment to meet with our clients in person. With the work we put in prior to this meeting, it then becomes very simple for our clients to look at the spreadsheet with us and clearly see the differences between the offers. We are able to take what could be a very bewildering process and make it a simple, streamlined one.
Throughout the process, we are good communicators and get back to agents that contact us. It is interesting how thankful buyer's agents are that we make a point of getting back to them and answering their questions. From what they are saying, we can tell that not all listing agents have the same professionalism and good communication. We have also heard from other agents how organized we are with the process and how much they appreciate it.
At TK Homes, we take selling your home very seriously. We continue to put our clients first and provide exemplary service, which puts us a cut above the rest. If you are interested in selling your home, let us show you how hard we will work for you and how we can help to simplify the process!

~ Written by TK Homes REALTOR®, Mary Smith