SELLER'S RESOURCE »

---
It wasn't that long ago that if you had a home for sale, buyers would drop everything they were doing to see it and submit their over list offers within hours of hitting the market. Those days, at least for now, seem to be a distant memory. Now, homes are sitting on the market for multiple weeks, and showings seem to be few and far between. When an offer is finally received, it's often at or in many cases even below list price. Selling a home in Denver today is definitely a different experience than it was just a few short weeks ago. With these new Denver real estate market conditions, it's important that home sellers have realistic expectations and an understanding of the market. Let's look at some of the most notable differences.
---
—Showings—
« Before It wasn't uncommon to have 40-50 showings in the first weekend. In many cases, homes would even see over 100 showings within the first 72 hours of being on the market.

Now » 7-8 showings the first weekend is typical. Double-digit showings are becoming rarer. Some homes are ignored completely and have no private scheduled showings at all in the first 72 hours.
—Offers—
« Before It wasn't uncommon to get the first offer within hours of a home hitting the market, and the offers wouldn't stop until one was accepted. The number of offers received was commonly more than ten and sometimes even broke into 20 or more offers.

Now » It is not uncommon for a home to make it through the weekend without receiving an offer. If you do get an offer, it's usually one, possibly two offers. The first offer usually isn't received until Sunday or possibly even throughout the week if it is received the first week on the market.
—Purchase Price—
« Before: Offers were almost always over the asking price, in many cases $100,000 or more over.

Now » Offers are usually at or even below list price. If a home is priced low, it can still receive an over list offer, but not usually more than $10,000 in most cases.
—Appraisal Gaps—
« Before Most accepted offers contained an appraisal gap or guarantee on the purchase price regardless of what the appraised value was.

Now » Offers do not contain any type of guarantee on the purchase price, and appraisals matter again. If a home appraises low, there will be additional negotiation on sales price.
—Inspections—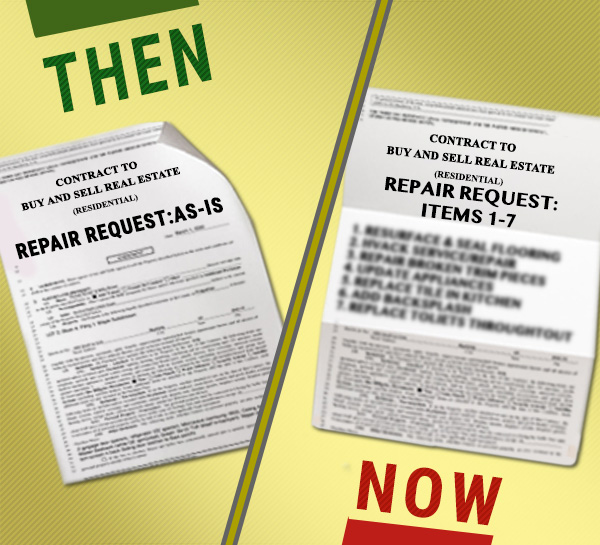 « Before Most accepted offers contained verbiage limiting or completely deleting the buyer's right to ask the seller to make repairs during the inspection. They could buy the home as-is or terminate.
Now » Buyers add no extra verbiage regarding inspections. They now have the right to ask the seller to make any repairs they feel fit. Inspection requests are definitely longer and more in-depth. Now sellers are going to be making more repairs and addressing more issues with the home when selling. Seller concessions or price reductions during inspections are now more common.
—Rent-Back Options—
« Before If a seller wanted a rent-back, they got it and usually at no cost to the seller.
Now » Sellers are still getting the rent-back option they seek. However, in some cases, they can't get the full length they were asking for, or they may have to pay a small daily fee for the rent -back period. Right now, rent -backs are still fairly common, and many buyers are willing to offer one to sellers.
---
With the new market conditions, one of the biggest mistakes a seller can make when selling their home right now is overvaluing their home and starting the list price too high. Buyers, for the first time in probably two years, have choices when buying a home. With choices, buyers can afford to be pickier, and if they feel the home is priced too high, they simply move on to the next home for sale in the neighborhood. It is easy to fall into the trap of overvaluing a home if you forget the market is slower now than the comps (similar homes recently sold) used to value your home. In the previous market, it wasn't uncommon to value your home at or slightly above the comps; today this strategy is most likely overvaluing the home. In a slowing market, it's important to value your home at or even slightly below the comps; these homes sold when the market was at its peak, and buyers today are not likely going to pay this price.

We have no way of telling if the current market conditions are a sign of how the Denver real estate market will remain or if it's just a regular seasonal slowdown. However, what we do know is if you're selling your home today, it takes a lot more than a few photos and a sign in the yard to get the best price for your home.

If you're thinking about selling your home, you need to work with a Denver real estate agent that understands the current market conditions and has the skill set to market your home correctly. At TK Homes, we pride ourselves on studying the market and understanding exactly what is going on. This allows us to use the correct strategy with our sellers to ensure we get the highest sales price possible for their home. Contact TK Homes and see what makes us stand out from other agents and learn how our marketing efforts will get the right buyer into your home with the highest sales price. Let's connect today, and we'll show you that TK Homes holds the key to your real estate goals.


~ Written by CEO/REALTOR® Trevor Kohlhepp