News & Events »

---
As many of you may already know, TK Homes recently moved with our Keller Williams office to Olde Town Arvada. At TK Homes, we feel it is important to support and promote local businesses in the community. That said, TK Homes is excited to announce our partnership with Olde Town Nutrition.
The day we walked into Olde Town Nutrition we knew it was something special. We were cheerfully greeted by the owner of the store, Joshua. He was extremely upbeat and positive and strongly believes in a healthy lifestyle, part of which means practicing good nutrition.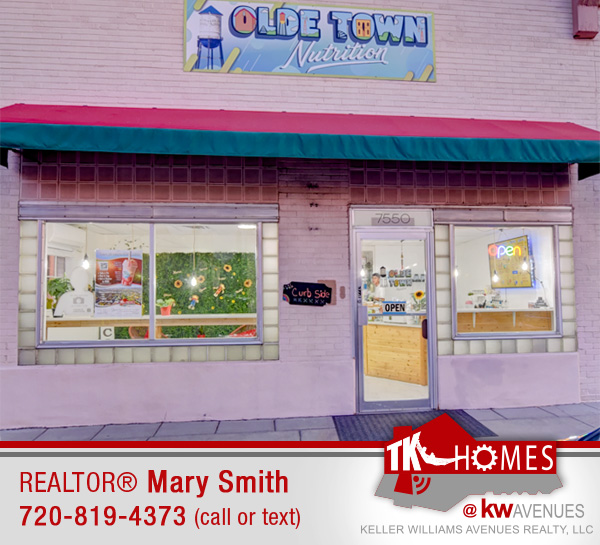 Olde Town Nutrition has energy teas, healthy smoothies, and protein coffee. Everything is plant-based. They have yummy and fun flavors like gummy bear tea, a lucky charm smoothie, and mocha cookie coffee to name just a few. Everyone on the TK Homes team has a different favorite. Mary likes the blueberry almond smoothie, Trevor's favorite is the peppermint mocha, and Mike loves the banana's foster smoothie. All smoothies are only 240 calories.
Right now, we have several fun promotions going on with Olde Town Nutrition. First, there is a 20% off coupon. We are also giving you the opportunity to guess our TK Homes featured mystery flavor and get 50% off your next purchase if you guess correctly. The biggest treat is to take your picture next to our poster outside the Olde Town Nutrition store, tag TK Homes and Olde Town Nutrition on either Instagram or Facebook and be entered to win a $100 gift card courtesy of Olde Town Nutrition. If you have a drink in your hand when you take your picture, you will be entered twice to win the $100 gift card. Request a postcard with the 20% off coupon and all promotion details today!
Go into Olde Town Nutrition to check out our TK Homes featured mystery flavor and see if you can guess the flavor! Don't forgot to get your picture taken and to tag us on Facebook or Instagram! Have your own small business and interested in partnering up with us to help support it? Contact us today, and let's see how we can help support each other. As always, if you know of anyone who would like to buy, sell or invest in real estate, TK Homes would be happy to help!

~ Written by TK Homes REALTOR®, Mary Smith